The 27s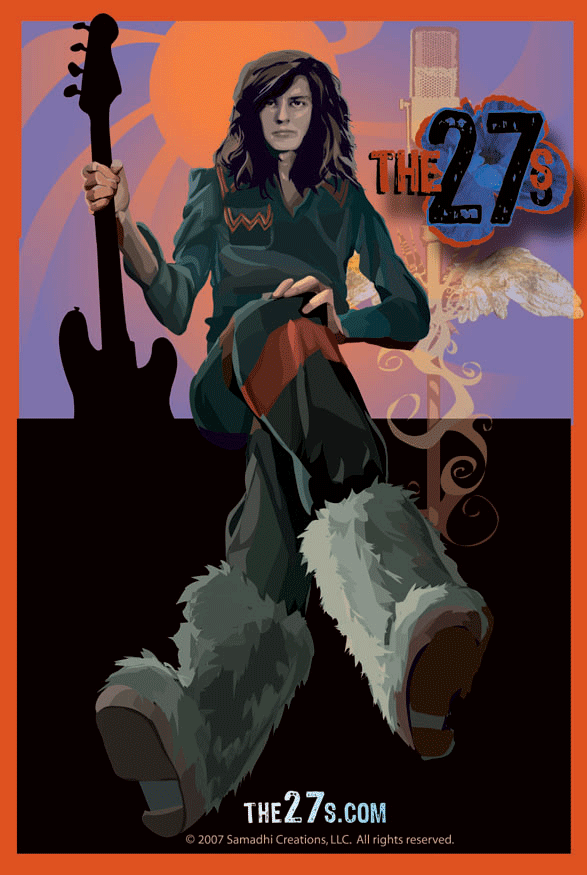 "Gary Thain is such an unheralded rock star," says Eric Segalstad, author of a forthcoming book titled

The 27s - The Greatest Myth of Rock & Roll. "Heep fans obviously know him, but so many people don't and that's one of the missions behind this book—shining that light on some of rock's forgotten stars."

The 27s is a 224-page, fully illustrated book that delves into the lives and legacies of more than thirty musicians who died at the age of 27. The roll call includes icons such as Jimi Hendrix, Janis Joplin, Jim Morrison, Kurt Cobain, but also musicians from the Stooges, Big Star, Badfinger, the Minutemen, Stone the Crows, Hole, Mars Volta, the Drifters, and so on. "What's interesting is that pretty much every one of those furthered the style of rock in one way or another," says Josh Hunter who has illustrated and designed The 27s. "In the case of Gary, his influence on bass players is phenomenal. He had this propulsive, groovy feel that could make any group sound better. If you add his licks to a group that already sounds killer, well…"

"Gary has a pretty interesting life story," Segalstad says. "He was still a teenager when he boarded a ship in his native New Zealand for England to play rock & roll. One of his bands was The New Nadir, which recorded a still-unreleased debut album produced by Joe Boyd. Hendrix jammed with them one time at London's Speakeasy. Then he co-founded the Keef Hartley Band and played on the band's six releases. Man, they were one of only five British bands to play Woodstock.

From there Gary was famously called on by Uriah Heep and ended up playing on some terrific records; Demons & Wizards, The Magician's Birthday, Live, etc.

"What happened at the Moody Coliseum in Dallas in '74 was sort of the beginning of the end for Gary. Imagine getting jolted by your amp on stage! Boom! Three feet in the air and face first in front of a packed house!"

It's time people hear the story about the late, great Gary Thain, and The 27s, which is scheduled to be published in early 2008, promises an intriguing look at Thain and his place in rock history.

If you're interested in

The 27s—The Greatest Myth of Rock & Roll log on to www.The27s.com and sign up to the mailing list. The authors promise early peek previews and special offers to those who do.